Pforzheim 1800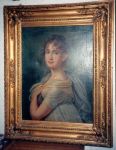 Auguste von Drais at age 19
(property Müller-Kalitsch)After Karl had chosen secondary modern school due to his bad grades in Latin, his godfather and also ruler of Baden decided that Karl should go into forestry service. At an age of 15 Karl therefore attended the private forestry school of his uncle who had been transferred to Pforzheim meanwhile. For three years he lived within his uncle's family at the forester's house.
The uncle, a senior forestry official, had three children: Karoline, 12, Auguste, 9, and Johann, 2 years old. Into the autograph album of his pretty cousin Auguste Karl writes:
Life's spring hastens there
Delighted who does enjoy it.
Pforzheim, January 1st, 1803
Your faithful cousin Karl von Drais
She will marry and move to Dobritz in Saxony-Anhalt having descendants until today. Otherwise the Drais family has become extinct.