Gernsbach (Black Forest) 1794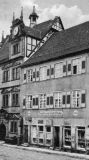 Forester's house (right)
© Stadtarchiv GernsbachThe uncle Drais is chief forester in Gernsbach and can't just stand by and watch the problems of his elder brother. From the ruler he obtains an eight-month leave for his brother plus familiy in the forester's house of Gernsbach which has to be regarded as a precautionary evacuation away from the French army approaching Kirchberg.
At the same time the uncle operates the only forest school of Baden to train future foresters in theory. Young Karl Drais will count within seven years among the pupils and become even assistant teacher after his studies at the university of Heidelberg.
The return to the Hunsrueck did not last long. The Drais family had to flee the French revolutionary army anew. As a consequence of the peace settlement Baden looses its possession of Kirchberg and father Drais his position. He moves with family to Durlach, recovers and does literary work. He teaches his son fencing. At age 14 Karl becomes a motherless child, since his mother dies of scarlet fever soon after her sixth childbirth.