Four-wheeled Driving Machines
A series of poor harvests occurs from 1812 on with the price of oats rising - can't one do without horses? Karl Drais wants to solve this problem and improves the human-powered garden phaetons known thus far via radical simplification. These are little 4-wheeled carriages for castle gardens that are propelled by a servant treading levers via a ratchet mechanism. The proprietor sits in front and merely directs. Advantage: no horse manure on the raked gravel lanes. Disadvantage: high friction losses.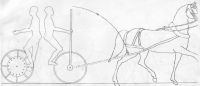 Driving Machine OneDrais lets build Driving Machine One that has a treadmill fixed to the rear axle so that the wheels turn with it in order to minimize friction losses in force transmission. The treading passenger (sitting on a hovering saddle) looks backward though. The other passenger looks forward and directs with both hands via vertical rods which can be let down to serve as shafts for a pulling horse in an emergency. Drais applied for a privilege on the design, yet as a civil servant he was not allowed to do any side business. Yet a privilege meant the favour to be allowed to sell something new in the dukedom exclusively. Accordingly the experts vote against it.
Drais has demonstrated the Driving Machine before Czar Alexander who gave the advice to show it during the Vienna Congress. Drais now lets build Driving Machine Two with a crankshaft between the rear wheels. Now even the treading passenger can look forward. Presumably he covered the 1000 miles to Vienna and back by float on the Danube (there) and on the road using a horse (back). But the princes haggling over Napoleon's inheritance hadn't their masters of the baggage train with them who could have shown interest in the Driving Machine.