Draisine - Draisienne - Velocipede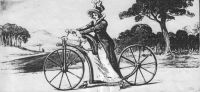 British ladies' velocipede


Newspaper ad in BostonIn France Drais obtained a brevet for five years and had a representative. In England Dennis Johnson, a Cartwright, took a patent on improvements - today one would call that a pirated patent. A novelty here were velocipedes for women who also were allowed to skate themselves in the UK. Even in the US a patent was taken on a velocipede (burnt in a fire at the patent office). The students of Harvard and Yale rode velocipedes. But always when velocipedes were ridden in masses their use on the sideways was forbidden immediately - yet the carriageway was too rutted for balancing a two-wheeler.
Meanwhile two period letters of draisine riders have surfaced. And in the Deutsches Museum at Munich a running machine is extant the owner of which has written into his diary at Regensburg in 1819:
Today the particular luck was accorded to me to obtain the first prize of a lottery at 15 kreutzer. And of what consisted that first prize? Of a fast-walking curricle with 2 wheels like Dr. Fahrer at the Carmelitans has one - yet with the difference that mine has only one front and rear wheel and runs all the quicker than with 2 rear wheels (i.e. a tricycle). Number 51 was my number of luck. The whole curricle, which would amount to 18 guilders, cost me therefore 15 kreutzer plus a tip of 36 kreutzer, i. e. as many kreutzer as my number indicated.
And in Straubing:
Riding the fast curricle (Tresenne, i.e. draisine) works out for me quite fair already. Daily I make a small commotion in the flat and ride around through all rooms, until I shall dare once - more experienced in the art - to go outside: it is entertaining...
Source of quotes: Dr. Norbert Stellner: Das Straubinger Rad. Der Knochenschüttler #26(2002)2-6
To end Drais' undecided professional status as a forester without district - all the more on leave of absence at full pay - he was pensioned off and named a professor of mechanics at the same time. That inventor's pension was too small for a marriage at his social standing. With the help of his father he pursued his return into forestry service - in the end in vain.